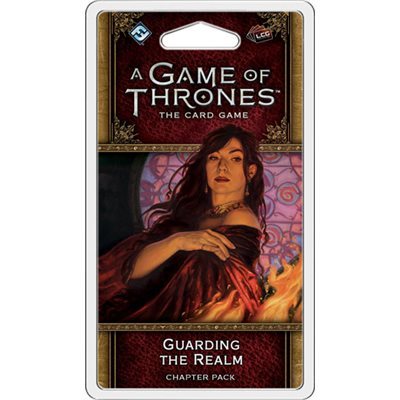 $24.95
AUD
Category: Card Games
Great changes are coming to Westeros, played out through countless smaller stories. Jaime Lannister has been freed from the prisons of Riverrun and makes his way towards King's Landing as a captive of Brienne of Tarth. Jon Snow has turned his cloak and fallen in with wildlings, while struggling to keep his true loyalties secret. Robb Stark fights to reclaim the loyalty of his bannermen, Daenerys Targaryen lays her plans to acquire an army of eunuchs, and Davos Seaworth returns to Dragonstone with a dream of assassinating the red priestess, Melisandre. Though the violence of the War of the Five Kings has paused, the intrigues and plots behind the scenes have never been stronger—or more dangerous. Return to Westeros with Guarding the Realm, a new Chapter Pack of the Blood and Gold cycle! As with the other expansions of this cycle, you'll be drawn into the events of A Storm of Swords. Gold has always been important in A Game of Thrones: The Card Game, and the ways you earn and spend it will soon become more plentiful than ever before, as you contend with the new bestow keyword and new economic options for every faction. And of course, you'll have the chance to add iconic characters to your deck, including Gilly, a new version of Melisandre, and a bastard son of House Botley, Wex Pyke. ...Show more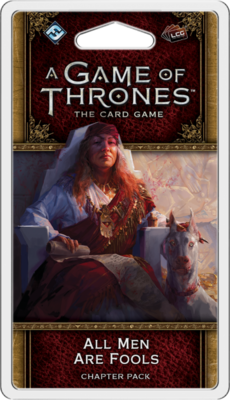 $24.95
AUD
Category: Card Games
Fantasy Flight Games announces All Men Are Fools, the first Chapter Pack in the Blood and Gold cycle for A Game of Thrones: The Card Game! In the aftermath of the Battle of the Blackwater, a moment of peace falls across Westeros as the Great Houses lick their wounds. House Lannister has won a decisive victory and forged a new alliance with House Tyrell—but more important than battles are the schemes hatching in the darkness. In the heart of King's Landing, Tyrion Lannister plots his return to power, as the Queen of Thorns takes Sansa Stark under her wing. House Bolton and House Frey each prepare to strike devastating blows against the Starks. And in the south, the princes of Dorne plot their revenge against the Lannisters for sins long past. Soon, these schemes may determine the fortunes of every Great House… All Men Are Fools is the first Chapter Pack of the Blood and Gold cycle, and it sets off the themes that will play out throughout. Following the lead of the previous two cycles, Blood and Gold focuses on the next book of A Song of Ice and Fire, calling on key events and iconic characters from A Storm of Swords. At the same time, you'll find a new focus placed on one of the game's most important resources: gold. With a brand-new keyword and powerful recurring events, every faction gains new ways to spend their gold, as well as plenty of new ways to earn it. Managing your gold has been crucial since the days of the Core Set, and soon, every faction will have more gold and more options than ever before. ...Show more

$19.95
AUD
Category: Card Games | Series: TAOC
With 300 fascinating and conversation building questions, plus blank cards on which to write your own questions, this game is for everyone. The only knowledge needed to successfully contribute to TAOC is your own life experiences, interests and ideas. When time is short, a proper conversation is often t he first commodity to be cut from our to-do lists. Yet it is necessary to understand each other and build our relationships. As well as helping people learn how to talk, TAOC places equal emphasis on learning how to listen. ...Show more

$19.95
AUD
Category: Card Games | Series: TAOC
Designed to revive The Art of Conversation(R), TAOC(R) is a fabulous way to have balanced, interesting and meaningful communications. This critically-acclaimed Children's Edition is fun and easy to use; great for developing communication skills and healthy relationships, as well as understanding onesel f for ages 4 and up. Contains over 200 communication areas plus instruction booklet. TAOC(R) Children's works well in a variety of settings on various levels, encouraging individual development and insight into oneself as well as others, making TAOC(R) Children's ideal for use in a multitude of educational and therapeutic settings, as well as being fun for all! TAOC(R) Children's is highly effective in numerous areas including: Special Needs ESL, Gifted Programs, Anti-Bullying, Language Delays, Literacy and Language Development, Children at Risk, Speech Pathology, and so much more; leading TAOC(R) Children's to be praised by Educators, Therapists, Parents and Children. TAOC(R) Children's teaches that differences need not create conflicts; it helps clear pathways and emotional blocks to learning and understanding; and facilitates bonding, integration and attachment. TAOC(R) Children's was carefully-researched, developed and tested; proof of the quality of the end result is its GAME OF THE YEAR Award - Creative Play. ...Show more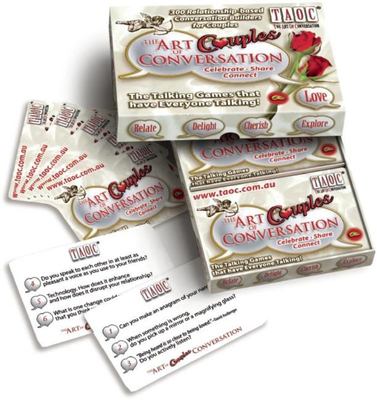 $19.95
AUD
Category: Card Games
With 300+ wonderful ways to connect & reconnect via enjoyable, balanced communications, the Art of Couples' Conversation is the perfect way for couples of all ages and stages to delight in each other's company as they reach a deeper and closer understanding of each other, themselves and their relati onship. Discover and rediscover, refresh and revitalise, laugh and love. Celebrate both differences and things in common while connecting and reconnecting in a multitude of new ways. The Art of Couples' Conversation is the latest title in a best-selling range of communication 'games' that have been extensively researched and developed to grow relationship resilience and longevity. Professionally accepted as a resource for use in therapy and education, The Art Of Couples' Conversation helps partners of all ages and stages connect and reconnect lovingly and respectfully, even when the subject may be a difficult one. Through guided and reflective communications, couples are encouraged to enjoy each other's company through communication. ...Show more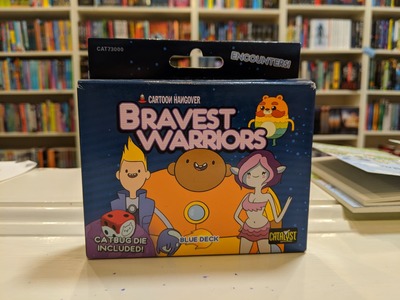 $21.95
AUD
Category: Adult Games
The Space-Time Calliope is vast and dangerous, waiting for courageous heroes to save the day. You're those heroes! Become the Bravest Warriors and battle your way through a myriad of encounters to heroic victory! In the BLUE DECK you play this fast and fun dice and cards game as CHRIS, WALLOW, PLUM or IMPOSSIBEAR! Combine with the Red Deck for up to 8 players! ...Show more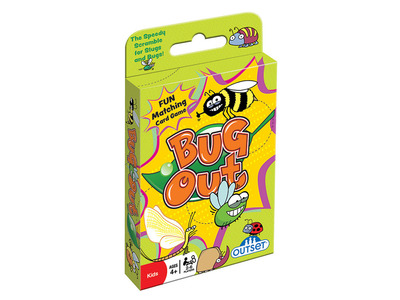 $14.99
AUD
Category: Card Games
Get ready to Bug Out with this fun matching card game! Be the first to catch all your matching bug cards and bug out! Ages 4+, 2 - 6 players.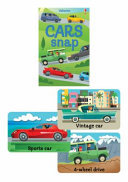 $9.99
AUD
Category: Card Games | Series: Usborne Snap
Traditional game of snap but with a twist children will love. Snap is a wonderfully inclusive game to play with children of different ages and the cards can be used for different memory games involving matching pairs, while learning all about the many different makes and types of cars.
Cats & Kittens: A Memory Game
by Marcel George (Illustrator); Sue Parslow (Contribution by)
$19.99
AUD
Category: Card Games
Match the cats and kittens of 25 breeds from around the world in this beautifully illustrated memory game. To play, simply place the cards face down and see if you can remember where the mother cat and her kitten are located. Collect more pairs than your opponent to win! With all kinds of breeds includ ed - from the British Shorthair to the Siamese, and from the Maine Coon to the hairless Sphynx - this fun and educational game will appeal to cat lovers everywhere. ...Show more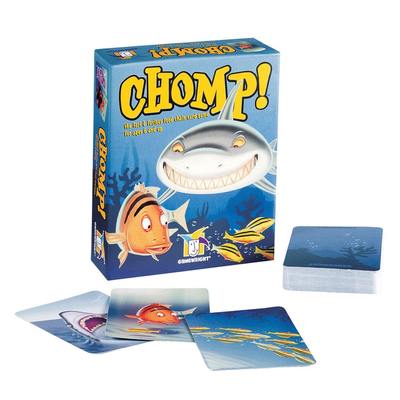 $22.00
AUD
Category: Card Games
Chomp! Is a great tool to help teach children about the food chain. Players learn about the hierarchy of ocean species through employing skills such as visual discrimination and sequencing. It also helps to sharpen reflexes and teaches quick thinking and analysis while playing a fast-moving game. A ge: 6 years and up Number of players: 2 to 5 players Playing time: 20 minutes Re-inforce: Science and Hand-Eye Coordination ...Show more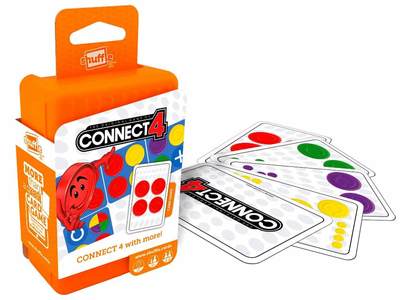 $19.95
AUD
Category: Card Games
On your turn you get the chance to play up to 4 of your cards but they have to match either the colour or the number of one of the four starting cards. You cannot mix numbers and colours. If you are trying to make a set of one colour then the numbers must all be different ( 1,2,3,4 ). If you complete a set of 4 then you take all four cards and keep them next to you. ...Show more
$9.99
AUD
Category: Card Games | Series: Snap Cards | Reading Level: Children's - Grade 2-3, Age 7-8
Snap is every child's much-loved first card game. This work helps young children to develop sorting, matching and reading skills.