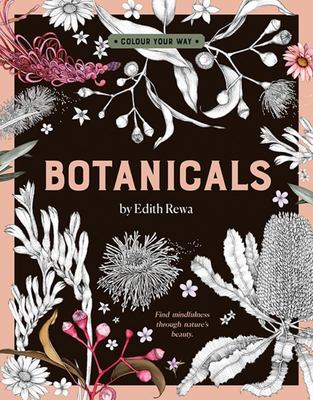 $14.99
AUD
Category: Hobbies & Interests | Series: Colour Your Way Ser.
Colour Your Way: Botanicals by Edith Rewa is a gorgeous colouring book showcasing the unique flora of Australia as seen through the eyes of textile designer and illustrator Edith Rewa. Includes 80 pages of blank colouring-in artwork to help you find mindfulness through nature's beauty.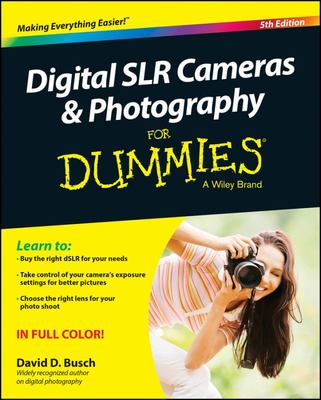 $49.95
AUD
Category: Hobbies & Interests
The perennial DSLR bestseller-now expanded with more photography tips Digital SLR Cameras & Photography For Dummies has remained the top-selling book on DSLR photography since the first edition was published. Now in its Fifth Edition, itcovers the latest technologies in the world of DSLR cameras and photography to help you master the techniques that will take your digital photography skills to the next level. Written in plain English and complemented with full-color photos, this hands-on, friendly guide covers the mechanics of the camera; exposure, lenses, and composition; how to capture action, portrait, and low-light shots; editing and sharing images; tips for improving your digital photography skills; and much more. Digital SLR cameras offer the mechanisms and flexibility of traditional pro-level cameras with the instant results and output of digital cameras. If you're a proud owner of a DSLR camera and want to take stunning shots that were once only achievable by the pros, this is the guide you need. Written by one of the most recognized authors in digital photography, this accessible resource makes it fast and easy to start capturing professional-quality photos. Full-color format helps bring the information to life Includes coverage of the latest DSLR cameras to hit the market Provides a foundation on exposure settings, file formats, and editing photos Offers expanded content on capturing the portraits, action shots, nature shots, and night shots photographers love to take If you're interested in capturing more than just a "selfie" and truly want to hone the craft of digital SLR photography, Digital SLR Cameras and Photography For Dummies sets you up for success. ...Show more
$19.99
AUD
Category: Hobbies & Interests
The bestselling beginner's guide to crochet from the team behind Mollie Makes, featuring 20 exclusive designer projects. Even novices can start crocheting, thanks to this easy-to-follow guide from Mollie Makes, filled with tips, stories, and things to make from the magazine's favorite designers. The be ginner's section provides a run-through of tools and equipment, along with handy information on choosing your yarn. Learn the best way to hold your hook, and then successfully crochet your first chain. Once you're on your way, the very doable projects include a monster gadget cover, bouquet of woolly flowers, cute set of Russian dolls, on-trend bolster pillow and chair runner, and granny-chic retro potholders. ...Show more
$9.99
AUD
Category: Hobbies & Interests | Series: Millie Marotta Ser.
A wonderful portable edition of the Sunday Times and international bestseller Millie Marotta's Animal Kingdom.  Millie Marotta is a hugely popular illustrator and her idiosyncratic drawings of the world's wonderful creatures will draw you in. The international bestseller offers a range of beautiful ill ustration to colour in, personalise and make your own. The artist's intricate style of illustration will get you itching for pencils and pen to colour in or add a touch of your own illustration, whether it's patterned birds, the flowing tendrils of a jellyfish, or the composite of flowers that make up a grizzly bear. You can colour her work or add your own line drawings to make it special to you. Add your own patterns to the lively forest scene, choose your own birds to add to the branches, or make a pattern with your colour choices. The images are guaranteed to get your creative juices flowing. c. 600 words   ...Show more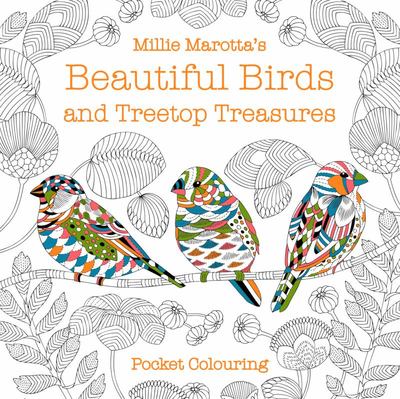 $9.99
AUD
Category: Hobbies & Interests | Series: Millie Marotta Ser.
A wonderful portable edition of Millie Marotta's Beautiful Birds and Treetop Treasures from the the Sunday Times and international bestseller Millie Marotta. Enter Millie's wonderful world of treetop treasures and discover the birds nesting and flying high up in the treetops, and the myriad creatures f ound among the branches. The enchanting illustrations to colour in range from Major Mitchell's cockatoo and rose robins, to the magnolia warbler, silver-eared mesia and whiskered treeswift. As well as the beautiful birds of the world, Millie's intricate designs show the more unusual creatures residing in the treetops, such as the Amazonian milk frog, the sugar glider or the tree-kangaroo. Millie's inimitable style is treasured by thousands around the world and in this  exciting book there are all sorts of creatures and fauna waiting to be coloured in, from tiny insects to winged beasts and scaled reptiles to buds and blossoms. The world's rainforests, woodlands and thickets are teeming with life and this book guarantees hours of relaxation and colouring fun.   ...Show more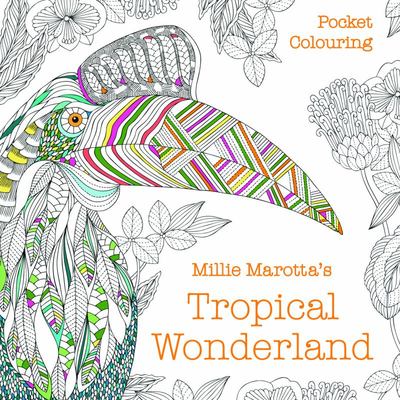 $9.99
AUD
Category: Hobbies & Interests | Series: Millie Marotta Ser.
A wonderful portable edition of Millie Marotta's Tropical Wonderland from the the Sunday Times and international bestseller Millie Marotta. Lose yourself in a riot of colouring in and drawing as you bring the exotic creatures and plants in Millie Marotta's tropical wonderland to life. Millie's intricat e style of illustration encourages you to make your own mark, whether it's to add to the fine lines on trees or add a splash of colour to the feathers of a tropical parrot. Explore the rainforest further and you will find extraordinary flowers, birds, butterflies and reptiles, including a rainbow boa with shiny scales crying out for a touch of colour. This book will bring enjoyment to anyone who is looking for a creative outlet or a mindful and relaxing activity.   ...Show more
$14.99
AUD
Category: Hobbies & Interests
From the author of the global bestseller Secret Garden (over 12 million copies sold ) Discover a whole new way to color with this small-scale, pocket-sized edition of Johanna Basford's bestseller Enchanted Forest. Sharpen your pencils for this mini inky adventure created in beautifully detailed, intrica te pen-and-ink illustration, all ready for you to bring to life with color. Printed on ivory paper with lay-flat binding allowing for a smooth and seamless colouring experience. It also features two brand-new illustrations. ...Show more
$19.99
AUD
Category: Hobbies & Interests | Series: My Cool Ser.
My Cool Bike celebrates a love affair with bikes and bike culture. The bicycle is the most popular form of transport on the planet. Cycling is simply ideal for many things and we are now at the dawn of a new golden age of this versatile machine. This book will appeal to all who have taken up cycling for sport, fun, health and wealth. As the individual stories in the book show, a bike is a way of seeking solitude - a leisurely trip taken at one's own pace, only relying on pedal power. For some the bike is much more than an accessory for the daily commute: there are the plucky few who have have embarked on life-changing momentous global journeys; while for others bike ownership offers the chance to be part of a loyal, passionate and strong-minded community of fellow enthusiasts embarking on club excursions. Among this collection of cool bikes are classic racing bikes, high-tech machines that use the latest in material science and aerodynamics, eccentric bikes designed for specific purposes, and rarities coveted by serious collectors. Themes include: Urban, Commercial, Touring and Sporting, Vintage and Eccentric, Custom bikes, Eco and community bikes, Workshops, shops and cafés and Accessories including fashion. ...Show more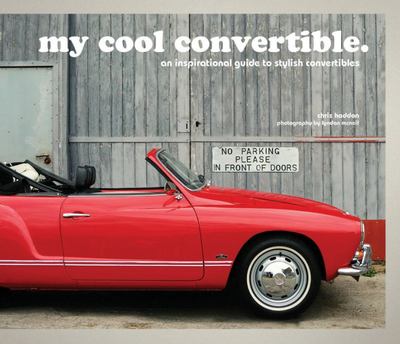 $29.99
AUD
Category: Hobbies & Interests | Series: My Cool Ser.
This latest title in the highly successful 'my cool' vehicle series covers the world of open top motoring. Cruising in a convertible car with the top down started out as an American summer tradition and for many drivers around the world there is nothing better than driving down a country lane with the r oof down, the wind sweeping your hair and the sun beating on your neck. The book includes a broad mix of 'cool' convertibles, and their owners, from vintage to classic and modern, with eye-catching photography and locations, captured by specialist car photographer Lyndon McNeil. Convertible cars come in all shapes and sizes from compact city cabriolets such as the Talbot Samba to roadsters such as the Lotus Elan Sprint and grand tourers such as the Aston Martin DB6. Every one of them enjoys a sense of open-air freedom and greater involvement in the driving experience. Think sun, wind and speed. In many ways, the convertible car is the ultimate expression of automotive indulgence. A car with a roof is sensible but a car without a roof is sexy, scintillating and, given the chance, most of us would pay through the nose to own one. From the timeless designs of early models (Lagonda, Rolls Royce Phantom II Continental, Frazer Nash BMW and the MG) to the mid century cars (Nash Metropolitan, Land Rover, Bristol and Renault Caravelle) and the retro/modern (Saab 900, Honda S800, Peugeot 304, VW Golf, Mercedes 380SL and Porsche 914), convertibles are among the most popular and desirable of cars. The convertible has gone through extreme highs and lows during more than a century of automotive history, from near ubiquity at the dawn of the car industry to nearly disappearing in the 1970s; and now once again being a highly popular type of car. The cars featured illustrate the highs and the lows of convertible design and show how convertible technology advanced from simple cloth tops (the 1931 Rolls Royce Phantom II Continental is an early example) to the advanced self-folding roofs of today and many other design features. Some of the most stylish marques are included: the most expensive in the book is the Frazer Nash BMW and the rarest the Fiat 1100 Barchetta. Word Count 25,000 ...Show more
$19.99
AUD
Category: Hobbies & Interests | Series: My Cool Ser.
This beautifully packaged book celebrates the humble and not so humble shed--from artists' studios to beach huts, My Cool Shed outlines the diverse ways of these small spaces and the unique ways in which owners are styling them make this title a delight for anyone interested in design. My Cool Shed feat ures 35 sheds, including small cabins, garden rooms, beach huts. Modern architectural mini masterpieces and other small spaces are given purpose by their owners to pursue their hobbies, careers, creative endeavors or just to find some peace and solitude. The book includes high-quality, stylish photography to show a wide range of well styled and elegant sheds, cabins, dens and hidewaways in attractive locations. The owners' stories and accompanying style notes offer insight as well as inspiration. This is not a "how to" book, although a sourcebook will be included, but more of a "feel good" book and provider of design and lifestyle inspiration. ...Show more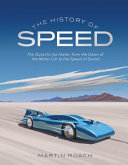 $49.99
AUD
Category: Hobbies & Interests
Ever since we built machines that could transport us, there has been a desire to find ways to make them go faster. For some, going faster isn't enough - they want to be the fastest. This book celebrates those who have built the machines and driven them at ever greater speeds. This is The History of Spee d. Bestselling motorsport writer Martin Roach tells the extraordinary story of those who have come to be obsessed by speed. From Camille Jenatzy, 'the Red Devil', who became the first man to drive at over 100kmh in 1899, through the golden age of Malcolm Campbell and his Bluebird, and on to the modern era of jet- and rocket-propelled cars, we have gone faster and faster. But this book is not just about these record-breakers, Roach also looks at the technology, the engines and the inventors who helped progress in speed at all levels, from Formula One to the supercars from the likes of Ferrari and Mercedes that are eagerly snapped up by collectors, rarely to be seen on the road. Accompanied by some of the most stunning images of the cars and those who made and drove them, Roach tells a wonderful story of innovation and invention. He talks to some of the great drivers to find out what inspires them to risk their lives, and finds out from engineers how they developed their ideas. Along the way, we hear some remarkable tales and anecdotes, but also find out how the pursuit of speed can also have its costs, with many tragic heroes and heroines falling along the way.  If you've ever thrilled to the roar of a sports car engine, or loved the feel of the g-force as you accelerate away, or even looked on in wonder at a powerful engine, The History of Speed is a book that you will not want to miss out on.  ...Show more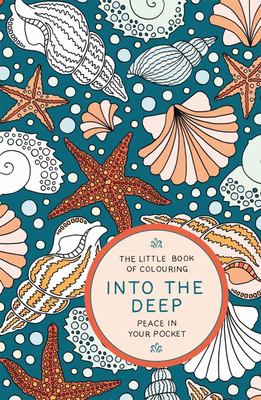 $12.99
AUD
Category: Hobbies & Interests
Filled with intricate patterns and uplifting quotes, keep these little books in your handbag or by your bedside so you can colour yourself happy, whatever the time of day. It is impossible to close the cover on these books without feeling calmer and more inspired than when you opened them. Printed on to p quality paper, each of these pocket-sized volumes is packed with uplifting quotes and over forty stunning illustrations from sea anemones to coral worthy of the Great Barrier Reef, this book will help you relax, de-stress and kickstart creativity. Other titles in the series: The Little Book of Colouring: In Bloom, The Little Book of Colouring: Animal Kingdom, The Little Book of Colouring: Tropical Paradise, The Little Book of Colouring: Wild Woodland and The Little Book of Colouring: Patterns. ...Show more