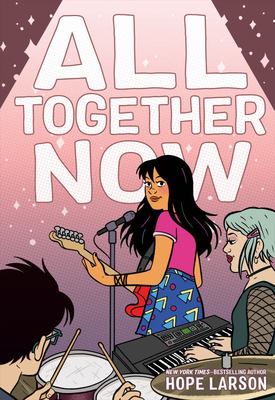 $34.99
AUD
Category: Comics & Graphic Novels | Series: Eagle Rock Ser.
All Together Now is New York Times bestselling author and illustrator Hope Larson's pitch-perfect graphic novel follow-up for fans of All Summer Long, music lovers, and anyone navigating the ups and downs of friendship. Middle-schooler Bina is having the best time playing in her new band with her friend s, Darcy and Enzo. But both the band and her friendships begin to crumble when Darcy and Enzo start dating, effectively relegating Bina to third-wheel status. To make matters worse, Bina's best friend, Austin, starts developing a crush on her . . . one she is not sure she reciprocates. Now Bina must follow her heart. Can she navigate its twists and turns before the lights come up and the music starts playing? ...Show more
Beetle and the Hollowbones
by Aliza Layne (Illustrator); Kristen Acampora (Colorist (comics)); Natalie Riess (Colorist (comics))
$22.99
AUD
Category: Comics & Graphic Novels
An enchanting, riotous, and playfully illustrated debut graphic novel following a young goblin trying to save her best friend from the haunted mall--perfect for fans of Steven Universe and Adventure Time.  In the eerie town of 'Allows, some people get to be magical sorceresses, while other people have their spirits trapped in the mall for all ghastly eternity.  Then there's twelve-year-old goblin-witch Beetle, who's caught in between. She'd rather skip being homeschooled completely and spend time with her best friend, Blob Glost. But the mall is getting boring, and B.G. is cursed to haunt it, tethered there by some unseen force. And now Beetle's old best friend, Kat, is back in town for a sorcery apprenticeship with her Aunt Hollowbone. Kat is everything Beetle wants to be: beautiful, cool, great at magic, and kind of famous online. Beetle's quickly being left in the dust.  But Kat's mentor has set her own vile scheme in motion. If Blob Ghost doesn't escape the mall soon, their afterlife might be coming to a very sticky end. Now, Beetle has less than a week to rescue her best ghost, encourage Kat to stand up for herself, and confront the magic she's been avoiding for far too long. And hopefully ride a broom without crashing. ...Show more
$24.99
AUD
Category: Comics & Graphic Novels | Series: Alex Rider
Relaxing in the south of France, reluctant MI6 agent Alex Rider is finally able to feel like any ordinary fourteen-year-old - until a sudden, ruthless attack on his hosts plunges him back into a world of violence and mystery. And this time, MI6 don't want to know. Alex is determined to track down his fr iends' attackers, even if he must do it alone. But it's a path that leads to a long-buried secret - and a discovery more terrible than anything he could have imagined. Alex Rider has 90 minutes to save the world. ...Show more
Elves : The Blue Crystal Vol 1
by Jean-Luc Istin; Kyko Duarte (Illustrator); Nicolas Jarry; Gianluca Maconi (Illustrator)
$24.99
AUD
Category: Comics & Graphic Novels | Series: Elves Ser.
Elves Vol. 1 launches this stunning comic series from authors Jean-Luc Istin and Kyko Duarte, an epic saga of high fantasy where Elven races face conflicts that shape their world.   The Blue Elves of Ennlya, a small port town of Nordrenn, have been murdered Lanawyn, a Blue Elf, and Turin, her human al ly, set out to discover who is responsible. The trail they uncover leads back to a clan of Yrlans--Northern men who hate Elves. At the same time, Vaalann, a young Blue Elf, undergoes a dangerous test called the Water of the Senses. Her future, as divined by the Mother Prophetess, is closely linked to the Sacred Crystal . . . a powerful artifact that enables the wielder to control the ocean itself Could Vaalann be the messiah that the Blue Elves have been waiting generations for?   The Sylvan Elves have hidden themselves away from the world, jealously preserving their independence and sacred grounds. Anyone who dares enter their territory soon becomes their prey. Eysine, City-State of the East, has always observed respect for the ancient pact between Elf and Man. But when a powerful army of Ork mercenaries lays siege to the kingdom, Llali, the daughter of the King of the city, must remind the Elves of the treaty that previously linked their two peoples. This tale is that of two races who have forgotten their shared past. It is also that of an Elf and a Human who carry with them the power to reawaken this bond.   Thus begins Elves, a sprawling saga of mythic proportions ...Show more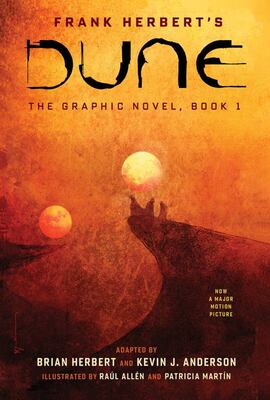 $35.00
AUD
Category: Comics & Graphic Novels | Series: Dune: the Graphic Novel
The definitive graphic novel adaptation of Dune, the groundbreaking science-fiction classic by Frank Herbert. Dune, Frank Herbert's epic science-fiction masterpiece set in the far future amidst a sprawling feudal interstellar society, tells the story of Paul Atreides as he and his family accept control of the desert planet Arrakis. A stunning blend of adventure and mysticism, environmentalism, and politics, Dune is a powerful, fanstastical tale that takes an unprecedented look into our universe, and is transformed by the graphic novel format. Brian Herbert and Kevin J. Anderson's adaptation retains the integrity of the original novel, and Raul Allen and Patricia Martin's magnificent illustrations, along with cover art by Bill Sienkiewicz, bring the book to life for a new generation of readers. Full-colour illustrations throughout. ...Show more
$14.99
AUD
Category: Comics & Graphic Novels | Series: The Baby-Sitters Club Little Sister Graphic
Its going to be a great weekend! Karen has new roller skates and is a very good skater. Shes looking forward to trying some new tricks. But, oh no! Karen falls down and has to go to the hospital. Her wrist is broken! Karen is determined to get everyone she knows plus someone famous to sign her cast. It isnt going to be easy, but she wont give up until the job is done. ...Show more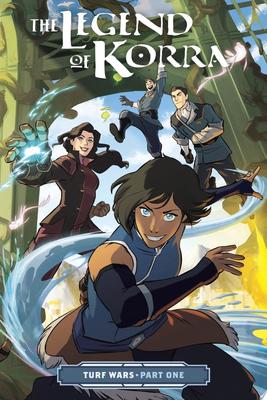 $18.99
AUD
Category: Comics & Graphic Novels | Series: Legend of Korra: Turf Wars | Reading Level: General Adult
A pompous developer plans to turn the new spirit portal into an amusement park, potentially severing an already tumultuous connection with the spirits. What's more, the triads have realigned and are in a brutal all-out brawl at the city's borders - where hundreds of evacuees have relocated! In order to get through it all, Korra and Asami vow to look out for each other - but first, they've got to get better at being a team and a couple! ...Show more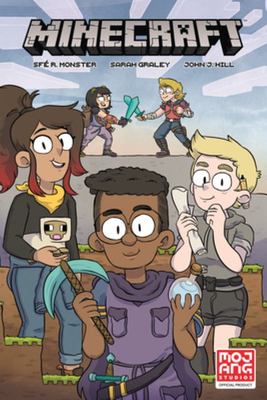 $17.99
AUD
Category: Comics & Graphic Novels | Series: Minecraft Graphic Novel
The first Graphic Novel in the world of Gaming Phenomenon Minecraft   Tyler is your everyday kid whose life is changed when his family has to move from the town he's always known. Thankfully, Tyler has a strong group of friends forever linked in the world of Minecraft Tyler, along with his friends Ev an, Candace, Tobi, and Grace have been going on countless adventures together across the expanses of the Overworld and are in need of a new challenge. They decide to go on the Ultimate Quest--to travel to the End and face off against the ender dragon ...Show more
$39.99
AUD
Category: Comics & Graphic Novels
The first volume of the graphic adaptation of Yuval Noah Harari's global phenomenon and smash Sunday Times #1 bestseller, with gorgeous full-colour illustrations and a beautiful package - the perfect gift for the curious beings in your life.One hundred thousand years ago, at least six different species of humans inhabited Earth. Yet today there is only one-homo sapiens. What happened to the others? And what may happen to us?In this first volume of the full-colour illustrated adaptation of his groundbreaking book, renowned historian Yuval Harari tells the story of humankind's creation and evolution, exploring the ways in which biology and history have defined us and enhanced our understanding of what it means to be "human". From examining the role evolving humans have played in the global ecosystem to charting the rise of empires, Sapiens challenges us to reconsider accepted beliefs, connect past developments with contemporary concerns, and view specific events within the context of larger ideas. Featuring 256 pages of full-colour illustrations and easy-to-understand text covering the first part of the full-length original edition, this adaptation of the mind-expanding book furthers the ongoing conversation as it introduces Harari's ideas to a wider new readership. ...Show more
$24.99
AUD
Category: Comics & Graphic Novels | Series: Alex Rider Graphic
A bold and stylish graphic adaptation of Alex Rider's fifth mission. In the fifth book in the number one bestselling Alex Rider series by Anthony Horowitz, teenage spy Alex travels to Venice to discover the truth about his past. But the truth lies with a criminal organization known as Scorpia, and Alex must make a choice - work for MI6 once more, or betray everything he believes in. An explosive cover look to tie in with the latest design for the trade editions of the series. Following the triumphant, international publication of Stormbreaker: The Graphic Novel, the whole graphic novel series has gained wide recognition among reviewers, fans and literacy experts. This is a series of books that may offer an accessible and compelling alternative for otherwise reluctant readers. "The perfect hero... genuine 21st century stuff." - Telegraph ...Show more
$32.99
AUD
Category: Comics & Graphic Novels
Beyond Hawkins Lab, Starcourt Mall, Dungeons and Dragons, Monsters, and Mindflayers, the powerful children that have escaped from Hawkins Lab are out in the world, trying to live normal lives, but it comes at a steep cost. Nine was left behind in Hawkins Lab, comatose and alone. Now she lives in a fract ured reality of her own creation under the watchful eyes of doctors who have no idea about the psychic volcano building insider her that could erupt at any moment, obliterating their entire hospital. Three and Nine's twin sister both escaped Hawkins lab several years ago and have been on the run ever since. ...Show more
$22.99
AUD
Category: Comics & Graphic Novels
Troy has been having nightmares about El ever since she embarrassed him in front of the school and broke his arm in season one. Powerless and anxious, Troy is determined to prove that what happened between him and El is only some form of trickery. That is until he and James encounter demodogs! Written by best-selling author Greg Pak (Mech Cadet Yu, The Incredible Hulk, Star Wars- Age of Rebellion) and drawn by Valeria Favoccia (Assassin Creed- Reflections, Doctor Who- The Tenth Doctor). ...Show more