$35.00
AUD
Category: Business, Finance & Management
NEW YORK TIMES BESTSELLER 'A supremely practical and useful book.' Mark Manson, author of The Subtle Art of Not Giving A F*ck  A revolutionary system to get 1 per cent better every day. People think when you want to change your life, you need to think big. But world-renowned habits expert James Clear has discovered another way. He knows that real change comes from the compound effect of hundreds of small decisions - doing two push-ups a day, waking up five minutes early, or holding a single short phone call. He calls them atomic habits. In this ground-breaking book, Clears reveals exactly how these minuscule changes can grow into such life-altering outcomes. He uncovers a handful of simple life hacks (the forgotten art of Habit Stacking, the unexpected power of the Two Minute Rule, or the trick to entering the Goldilocks Zone), and delves into cutting-edge psychology and neuroscience to explain why they matter. Along the way, he tells inspiring stories of Olympic gold medalists, leading CEOs, and distinguished scientists who have used the science of tiny habits to stay productive, motivated, and happy. These small changes will have a revolutionary effect on your career, your relationships, and your life. 'James Clear has spent years honing the art and studying the science of habits. This engaging, hands-on book is the guide you need to break bad routines and make good ones.' Adam Grant, author of Originals 'A special book that will change how you approach your day and live your life.' Ryan Holiday, author of The Obstacle is the Way ...Show more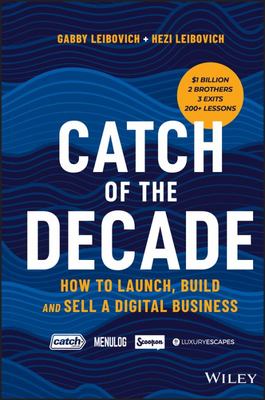 $29.95
AUD
Category: Business, Finance & Management
Real stories and advice from digital entrepreneurs who have learned what it takes to succeed In Catch of the Decade, two of Australia's most successful online superstars reveal how they've built, launched, merged, and sold some of the most disruptive businesses in Australia today: Catch, Scoopon, Menul og and Luxury Escapes. This book contains little-known secrets and strategies that will help you shorten your learning curve, avoid mistakes, and bring your business dream alive. The wisdom revealed in this book is hard won: brothers Gabby and Hezi Leibovich started with no money and no connections, turned their drawbacks into assets, and came out on top. You'll learn how they rode the waves of entrepreneurialism and worked their way up, ultimately creating Australia's most popular shopping site, Catch, and selling it for over one billion dollars. Learn proven tips and real-world lessons, straight from entrepreneurs who achieved their billion-dollar dreams Read hard hitting, no nonsense nuggets of wisdom that you can apply to your business Return again and again to this essential reference for entrepreneurs For the first time, the Leibovich brothers are telling their story, in their own words, and you'll learn how they got where they are today. Follow in their footsteps with over 100 bite-sized entries that are both inspirational and useful. Pick up Catch of the Decade and get moving   ...Show more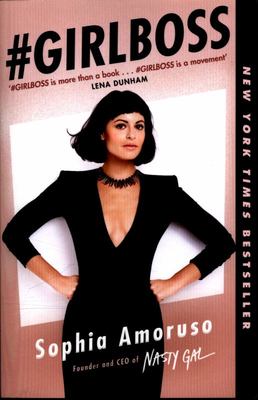 $24.99
AUD
Category: Business, Finance & Management
In the New York Times bestseller that the Washington Post called "Lean In for misfits," Sophia Amoruso shares how she went from dumpster diving to founding one of the fastest-growing retailers in the world.Amoruso spent her teens hitchhiking, committing petty theft, and scrounging in dumpsters for lefto ver bagels. By age twenty-two she had dropped out of school, and was broke, directionless, and checking IDs in the lobby of an art school--a job she'd taken for the health insurance. It was in that lobby that Sophia decided to start selling vintage clothes on eBay.   Flash forward to today, and she's the founder of Nasty Gal and the founder and CEO of Girlboss. Sophia was never a typical CEO, or a typical anything, and she's written #GIRLBOSS for other girls like her: outsiders (and insiders) seeking a unique path to success, even when that path is windy as all hell and lined with naysayers.   #GIRLBOSS proves that being successful isn't about where you went to college or how popular you were in high school. It's about trusting your instincts and following your gut; knowing which rules to follow and which to break; when to button up and when to let your freak flag fly.   "A witty and cleverly told account . . . It's this kind of honest advice, plus the humorous ups and downs of her rise in online retail, that make the book so appealing." --Los Angeles Times   "Amoruso teaches the innovative and entrepreneurial among us to play to our strengths, learn from our mistakes, and know when to break a few of the traditional rules." --Vanity Fair   "#GIRLBOSS is more than a book . . . #GIRLBOSS is a movement." --Lena Dunham ...Show more
$24.99
AUD
Category: Business, Finance & Management
Simple and timeless tools for success and happiness For more than eighty years, millions of people from Warren Buffett to Oprah Winfrey have benefited from the remarkable wisdom of Dale Carnegie. Intended as a basic sales primer, How to Win Friends and Influence People quickly exploded into an overnigh t success--selling more than fifteen million copies worldwide and becoming one of the most influential books of all time. With an enduring grasp of human nature, Dale Carnegie's How to Win Friends and Influence People shows you how to be more persuasive and effective, a better leader and manager, and happier at home and at work. This special new edition of the beloved classic includes an exclusive foreword by Terry O'Reilly. ...Show more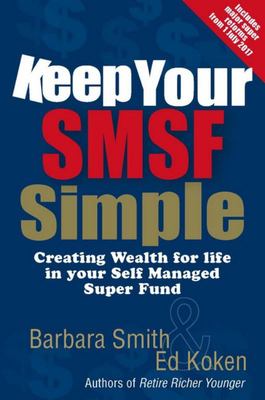 $34.95
AUD
Category: Business, Finance & Management
If you would like to control your financial destiny? Do you think you could do a better job with your retirement savings than your super fund, then anything is possible if you Keep It Super Simple (KISS). But, this can seem ?easier said than done?.? The government is making far-reaching changes to super annuation rules that come into force ? most of them at least ? from 1 July 2017. Self managed super fund (SMSF) trustees, need to know about these changes to ensure they are compliant with the often-complex government rules around this area of personal finance. Keep Your SMSF Simple is essential reading for every trustee and member of an SMFS, or anyone contemplating setting up a self managed super fund. Smith and Koken?s well-known plain-English, KISS approach provides you with information on changes relating to: ? the caps on concessional superannuation contributions and non-concessional superannuation contributions;? ? the introduction of a cap of $1.6 million on the amount that can continue to be held, or transferred into the pension phase;? ? the income test relating eligibility to a tax offset for spouse superannuation contributions;? ? a low income superannuation tax offset for concessional contributions; ? more flexibility to the deductibility of personal contributions rule; ? catch-up concessional contributions;? ? removal of tax exempt income for transition to retirement (TTR) pensions;? ? a reduction of the income and superannuation contributions level where a member pays 30%. As well as explaining these changes, Keep Your SMSF Simple, explains what you need to consider before setting up an SMSF right through to closing it down, and virtually everything in between. This is a ?must have? practical book, which is a ?how to? manual for the 1 million people who are already members on an SMSF and for everyone who has thought about self managing their super.? ? ...Show more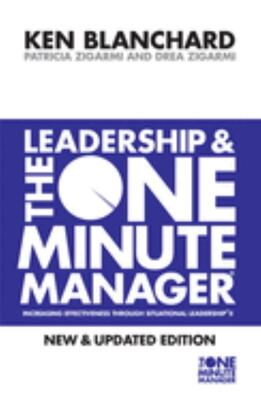 $18.99
AUD
Category: Business, Finance & Management | Series: The\One Minute Manager Ser.
This updated edition of management guru Ken Blanchard's classic work Leadership and the One Minute Manager® teaches leaders the world renowned method of developing self-reliance in those they manage: Situational Leadership® II. From Leadership and the One Minute Manager® you'll learn why tailoring mana gement styles to individual employees is so important; why knowing when to delegate, support, or direct is critical; and how to identify the leadership style suited to a particular person. By consistently using Situational Leadership® II's proven model and powerful techniques, leaders can develop and retain competent, committed employees. This remarkable, easy-to-follow book is a priceless guide to personalized leadership that elicits the best performance from your staff--and the best bottom line for any business. ...Show more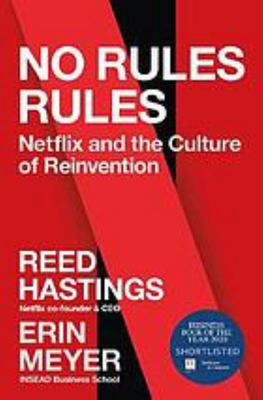 $35.00
AUD
Category: Business, Finance & Management
Netflix cofounder Reed Hastings reveals for the first time the unorthodox culture behind one of the world's most innovative, imaginative, and successful companies. There's never before been a company like Netflix. Not only because it has led a revolution in the entertainment industries; or because it ge nerates billions of dollars in annual revenue; or even because it is watched by hundreds of millions of people in nearly 200 countries. When Reed Hastings co-founded Netflix, he developed a set of counterintuitive and radical management principles, defying all tradition and expectation, which would allow the company to reinvent itself over and over on the way to becoming one of the most loved brands in the world. Rejecting the conventional wisdom under which other companies operate, Reed set new standards, valuing people over process, emphasizing innovation over efficiency, and giving employees context, not controls. At Netflix, adequate performance gets a generous severance and hard work is irrelevant. At Netflix, you don't try to please your boss, you practice radical candor instead. At Netflix, employees never need approval, and the company always pays top of market. When Hastings and his team first devised these principles, the implications were unknown and untested, but over just a short period of time they have led to unprecedented flexibility, speed, and boldness. The culture of freedom and responsibility has allowed the company to constantly grow and change as the world, and its members' needs, have also transformed. Here for the first time, Hastings and Erin Meyer, bestselling author of The Culture Map and one of the world's most influential business thinkers, dive deep into the controversial philosophies at the heart of the Netflix psyche, which have generated results that are the envy of the business world. Drawing on hundreds of interviews with current and past Netflix employees from around the globe and never-before-told stories of trial and error from his own career, No Rules Rules is the full, fascinating, and untold story of a unique company making its mark on the world. ...Show more
$32.99
AUD
Category: Business, Finance & Management
From the bestselling author, a ground-breaking sequel to Superpower. In Reset, renowned economist Ross Garnaut shows how the COVID-19 crisis offers Australia the opportunity to reset its economy and build a successful future - and why the old approaches will not work. Garnaut develops the idea of a ren ewable superpower, he calls for a basic income and he explores what the 'decoupling' of China and America will mean for Australia. In the wake of COVID-19, the world has entered its deepest recession since the 1930s. Shocks of this magnitude throw history from its established course - either for good or evil. In 1942 - in the depths of war - the Australian government established a Department of Post-War Reconstruction to plan a future that not only restored existing strengths but also rebuilt the country for a new and better future. As we strive to overcome the coronavirus challenge, we need new, practical ideas to restore Australia. This book has them.   ...Show more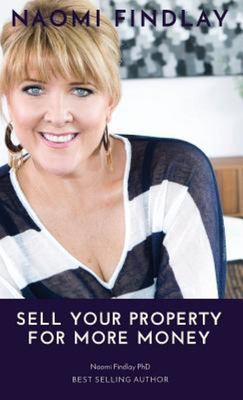 $26.99
AUD
Category: Business, Finance & Management
Australia¿s Rapid Renovation Expert, Naomi Findlay is the CEO of Silk Home and the Principal and Founder of the International Institute of Home Staging, author of the best-selling book Ignite Your Property Mojo, and the founder of NaomiFindlay.com.
$22.99
AUD
Category: Business, Finance & Management
In this instantand tenacious New York Times bestseller, Nike founder and board chairman Phil Knight "offers a rare and revealing look at the notoriously media-shy man behind the swoosh" (Booklist, starred review), illuminating his company's early days as an intrepid start-up and its evolution into one o f the world's most iconic, game-changing, and profitable brands.   Bill Gates named Shoe Dog one of his five favorite books of 2016 and called it "an amazing tale, a refreshingly honest reminder of what the path to business success really looks like. It's a messy, perilous, and chaotic journey, riddled with mistakes, endless struggles, and sacrifice. Phil Knight opens up in ways few CEOs are willing to do."   Fresh out of business school, Phil Knight borrowed fifty dollars from his father and launched a company with one simple mission: import high-quality, low-cost running shoes from Japan. Selling the shoes from the trunk of his car in 1963, Knight grossed eight thousand dollars that first year. Today, Nike's annual sales top $30 billion. In this age of start-ups, Knight's Nike is the gold standard, and its swoosh is one of the few icons instantly recognized in every corner of the world.   But Knight, the man behind the swoosh, has always been a mystery. In Shoe Dog, he tells his story at last. At twenty-four, Knight decides that rather than work for a big corporation, he will create something all his own, new, dynamic, different. He details the many risks he encountered, the crushing setbacks, the ruthless competitors and hostile bankers--as well as his many thrilling triumphs. Above all, he recalls the relationships that formed the heart and soul of Nike, with his former track coach, the irascible and charismatic Bill Bowerman, and with his first employees, a ragtag group of misfits and savants who quickly became a band of swoosh-crazed brothers.   Together, harnessing the electrifying power of a bold vision and a shared belief in the transformative power of sports, they created a brand--and a culture--that changed everything. ...Show more
$29.95
AUD
Category: Business, Finance & Management
** Reviewed and updated for the 2020-2021 financial year** This is the only money guide you'll ever need That's a bold claim, given there are already thousands of finance books on the shelves. So what makes this one different? Well, you won't be overwhelmed with a bunch of 'tips' … or a strict budget (t hat youwon't follow). You'll get a step-by-step formula: open this account, then do this; call this person, and say this; invest money here, and not there. All with a glass of wine in your hand. This book will show you how to create an entire financial plan that is so simple you can sketch it on the back of a serviette … and you'll be able to manage your money in 10 minutes a week. You'll also get the skinny on: Saving up a six-figure house deposit in 20 months Doubling your income using the 'Trapeze Strategy' Saving $78,173 on your mortgage and wiping out 7 years of payments Finding a financial advisor who won't rip you off Handing your kids (or grandkids) a $140,000 cheque on their 21st birthday Why you don't need $1 million to retire … with the 'Donald Bradman Retirement Strategy' Sound too good to be true? It's not. This book is full of stories from everyday Aussies — single people, young families, empty nesters, retirees — who have applied the simple steps in this book and achieved amazing, life-changing results. And you're next. ...Show more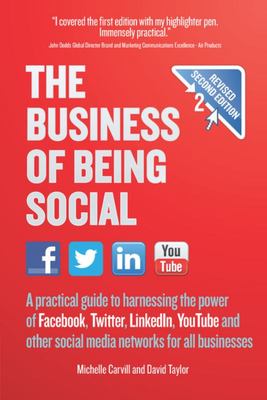 $39.99
AUD
Category: Business, Finance & Management
What is social media? Have you got a facebook page but are unsure how it can benefit your company? Or do you want to monitor your social media activity to see its effectiveness?Learn how to understand and utilize social media for business.From the basics to the most complex issues The Business of Being Social breaks down every aspect of social media and explains step-by-step how you can create a strategy for success. Social media exploded onto our screens but most businesses use traditional marketing methods and are confused how to harness the benefits. Make sure you're using social media to its full potential.Whether you're a business owner or need social media for marketing to set up new social media channels such as Pinterest or YouTube, build your community or find out how to use keywords and SEO, The Business of Being Social covers all these aspects and more. From helping you to build your brand and promote communication between yourself and your customers, to driving customers to your website and learning from companies who have made their social media campaigns a success, The Business of Being Social is your one-stop guide to the ins and outs of social media. Learn how to: Create a viable social media strategy Build and use channels such as Twitter, Facebook and LinkedIn Create customised apps, communities and use keywords Monitor any activity such as paid-for advertising Understand your audience and what content they want Integrate your social media activity into your marketing strategiesDiscover the secrets to social media for your business."As a business owner, how can you ensure that your company's voice and message is heard loud and clear. Thankfully, online visibility experts, Michelle Carvill and David Taylor, have put their heads together and published The Business of Being Social." The Good Web Guide"Up-to-date, thorough, very interesting and informative, well-written, engaging, and highly practical. Michelle and David clearly know their stuff and they've done a great job of combining and presenting their expert knowledge in this book." Birds on the Blog ...Show more